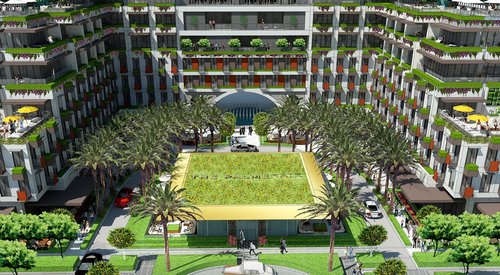 The Palmeraie, Scottsdale & Paradise Valley, AZ
"The initial phase of The Palmeraie Shops™ will encompass approximately 200,000 square feet of high-end, mixed-use space located on 15 acres at the corner of Scottsdale Road and Indian Bend bordering the posh town of Paradise Valley. Home to more than 70 exceptional luxury and specialty boutiques, The Palmeraie will also incorporate a variety of dining destinations from morning cafes to five-star restaurants and innovative pop-up concepts.
With its organic, elegant, timeless design, and lush landscaping that creates a virtual oasis in the desert, The Palmeraie Shops™ will be unlike any existing development of its kind. Its open-air terraces, 360-degree desert and mountain views, and breathtaking landscape design will create a vibrant and vital epicenter for Scottsdale's discerning residents and tourists as well as second and third home owners who are flocking to this increasingly cosmopolitan area in record numbers.
Utilizing state-of-the-art technology, cool air will be distributed throughout the landscape to ensure a cool experience for guests alongside incredible music curation. Interactive palm trees, art installations and more sophisticated sensory experiences await" (Description/Photo by The Palmeraie)